This is what I do and why I do it.
I am a leadership developer, coach, consultant and speaker. I provide leadership training and coaching to science and engineering managers, strategy and performance management consulting to senior executives, and speak on a variety of leadership topics on the business of science. I specialize in helping scientists and engineers become leaders in their technology-based organizations. I do this by choice as I no longer need to work for a living after having led successful technology organizations for the past 40 years.
Senior executives or companies bring me in when:
They are disappointed with the lack of impact of their current training programs
Their organization has developed deep silos that inhibit productive cooperation
Their staff express dissatisfaction with how they are being managed and led
They feel a need to change their company culture to improve the energy level and enthusiasm of their management team.
They feel that their managers could use an outside perspective on how to increase sales, reduce costs, and minimize risk, while improving staff satisfaction.
I am typically hired by companies, but in the right circumstances work with individuals. Clients experience tremendous success from my workshops because they are customized and personalized for their organizations.
Instead of hiring consultants or academics with off the shelf, canned programs and no track record of successfully managing science and technology-based organizations, why not hire an expert who has developed a codified leadership process for scientists and engineers that works and taught it to thousands of technical staff for the past 25 years.
I am confident enough in my program that if you are not fully satisfied with any of my workshops, I will refund your money no questions asked.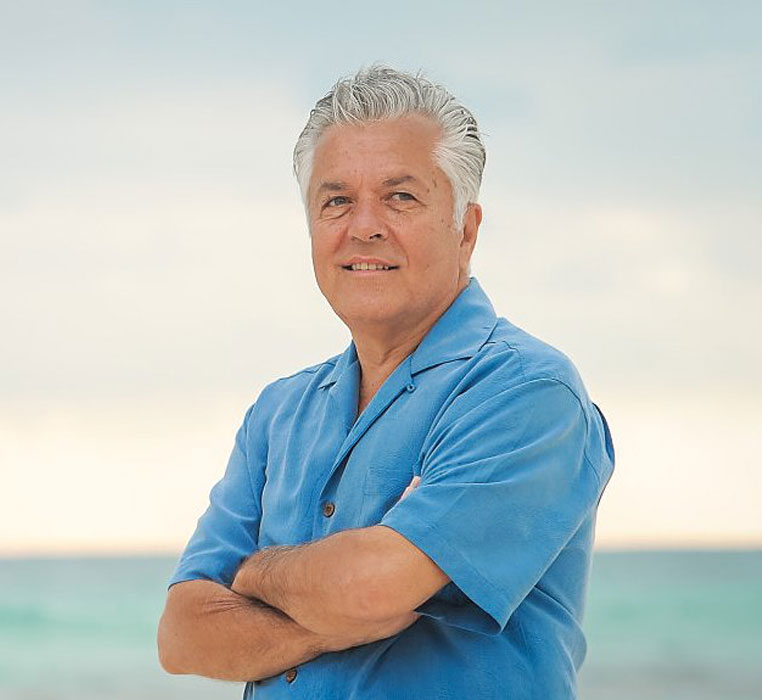 Dr. Graffeo was one of our frequent and most popular invited speakers. Dr. Graffeo combines a knowledge of management and leadership theory, practical experience as a line manager and an enthusiastic teaching style. Our participants have gained valuable insights on managing human capital from Dr. Graffeo's lectures. I highly recommend Dr. Graffeo as a speaker or trainer for anyone interested in learning leadership and management from someone who has been successful at it and knows how to teach it.
One of Dr. Graffeo's major strengths is his teaching ability. He has a combination of technical knowledge, management experience and teaching skills that are unique among the leadership development community that engendered trust with our technical staff of scientists and engineers. Anyone looking to improve the leadership of their science and technology organization need look no further than Dr. Graffeo.
SEE HOW WE CAN IMMEDIATELY UNLEASH YOUR
ORGANIZATION'S LEADERSHIP POTENTIAL
Corporate Leadership Training
Standardized and custom Leadership Development Workshops focused on
experiential learning

CORPORATE LEADERSHIP TRAINING
Emerging Leaders Workshop
Leading Technical Staff
Leading Technical Projects
Entrepreneurial Leadership
Executive Leadership
Learn more

Strategic Consulting
An independent set of eyes from an experienced Science and Technology Executive

STRATEGIC CONSULTING
Strategic Plan Assessment
Aligning Strategy and Execution
Client Feedback Studies
Technology Portfolio Evaluations
Strategic Communications
Learn more

Executive Coaching
One on one mentoring and coaching with critical observation and private feedback

EXECUTIVE COACHING
Leadership Assessments
Teambuilding
Productivity Analysis
Trust Assessments
Learn more

Request an Appearance
Dr. Tony Graffeo is available to present to associations, corporations, non-profit organizations, and educational institutions
REQUEST AN APPEARANCE
If you would like him to speak at your organization, please call at
(617)704-6093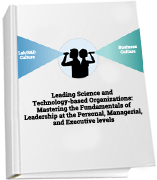 Get a free copy of my
latest eBook
Enter your email to receive a download link for my upcoming Ebook on the Performance Trilogy® - The Three Dimensions of Leadership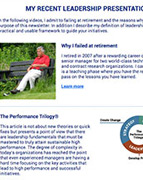 Sign up for my
monthly newsletter
Science,Technology and innovation leadership articles from Graffeo and Associates and the leading experts on Leadership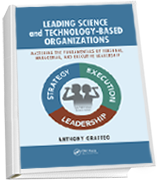 Leading Science and Technology-Based Organizations now available on Amazon
Order this definitive text on Science and Technology Leadership - Mastering the Fundamentals for personal, managerial and executive Leadership
ORDER
Graffeo and Associates, formed in 2008, is an organization committed to improving the quality of leadership in science and technology (S&T). Dr. Anthony Graffeo has been teaching leadership development throughout the world centered around the principles of the Performance Trilogy®. He is currently a professor at Northeastern University teaching graduate courses in entrepreneurship and leadership. His new book, titled "Leading Science and Technology-based Organizations: Mastering the Fundamentals of Leadership at the Personal, Managerial, and Executive levels" will be published in 2018.