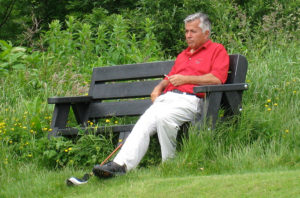 My name is Dr. Tony Graffeo and I retired in 2007 after a rewarding career over 35 years as a senior manager for two world class technology consulting and contract research organizations; Arthur D. Little and Battelle Memorial Institute. I was prepared to ride off into the sunset and play golf when I got a call from the newly appointed Director General at the Kuwait Institute for Scientific Research (KISR) asking for help developing KISR's new strategic plan and identify and train his emerging leaders. I had consulted in Kuwait on their Blue-Ribbon commission study on the future of Science and Technology in Kuwait and had taught R&D Leadership at KISR the previous year and the Director General liked my work. I decided to take on the challenge despite the admonition from friends and relatives. Thus, Graffeo and Associates was formed.
I spent 8 fulfilling years working for the two leading scientific organizations in the Middle East; KISR and KFAS (Kuwait Foundation for the Advancement of Science) developing strategic plans and training their technical staff on the nuances of R&D leadership and management. I was able to work directly with emerging technical leaders, R&D managers and Deputy Directors translating leadership and management principles into a language that resonated with scientists and engineers. Because I was a scientist myself and a successful technical manager, I was able to develop a rapport and trust level that wasn't attainable from professional trainers (the technical staff referred to them as "suits"). After the Director General completed his two terms, we both retired in 2015 (the second time for me).
I spent the next year traveling extensively and playing a lot of golf but couldn't rid myself of the nagging belief that my professional mission in life was not yet over. I had so much valuable insights to share about managing technology and saw the positive effect it had with Kuwaiti scientists and engineers. So, I applied and was accepted as a Professor of Practice at the College of Science and Northeastern University and am now teaching two Master's level courses in entrepreneurship and leadership. I will be 70 years old this October and live in Florida with my wonderful wife. We have a summer home in Massachusetts where three of our four children live. You may be thinking "why is this old timer spending his time teaching courses at Northeastern when he could be retired, enjoying life, playing golf and the like"? He doesn't need the money as he has a pension and a robust 401k. I kept asking myself the same question. It took quite a while and a lot of reflection to answer that question. I had to get a bit philosophical in order to find the right answer. Over the past several years, I reflected on life in general and came up with the following rationale.
Phase 1 in life is the learning phase where society (including parents and teachers) invest in you and you have a responsibility to develop your natural born talents and skills. I was extremely fortunate to have parents, while uneducated, believed strongly that education was the key to success and professional fulfillment. Despite my father only having a third-grade education, I was able to be the first person in our family to graduate college and go on to obtain Ph.D. in chemistry from Northeastern University.
Phase 2 in life is the performance phase, where you return that investment and give back to society through productive work, raising children, community involvement and the like. I had a highly successful, interesting career and raised two children who I am extremely proud of.
Phase 3 in life I came to believe is the teaching phase where you have the responsibility to pass on the lessons you have learned in life, such as they are, to those in phases 1 and 2. I developed a passion for leadership development and lifelong learning from my mentor, Dr. Bill Hitt, Director of Corporate Development at Battelle. My vision is to pass on that passion for leadership to the next generation of scientists and engineers by teaching them the fundamental leadership principles that I learned and practiced successfully during my 40-year career.
This will enable them to create business and societal value from science and technology. My belief is that society will continue to derive tremendous benefit from advances in science and technology on one condition. The next generation of scientists need to provide the leadership to promote global sustainable technology development and communicate it to a highly skeptical public in a compelling way.
In order to accomplish this vision with the widest reach, I plan on establishing myself as a thought leader, influencing a community of scientists and engineers that can benefit from my experience. I plan on achieving this through publishing (web and traditional), board positions, speaking engagements, executive coaching, and corporate leadership development training.
So, now you know why I failed at retirement. As you can see, there is no such thing as failure, there are only results; results that make you happy, and results that you learn from. You see, I'm teaching already!
Graffeo and Associates is an organization committed to improving the quality of leadership in science and technology (S&T). It was formed in 2008 around the expertise of Dr. Tony Graffeo, a senior executive from Arthur D. Little and Battelle Memorial Institute. Dr. Graffeo has consulted with leading research institutions in the United States, Europe, Latin America and the Middle East, and has created a codified system of leadership development centered around the principles of the Performance Trilogy® which he has taught throughout the world. He is currently a professor at Northeastern University teaching Professional Masters entrepreneurship and leadership courses. His new book, titled "Leading Science & Technology-Based Organizations: Mastering the Fundamentals of Personal, Managerial, and Executive Leadership" will be published in 2018.